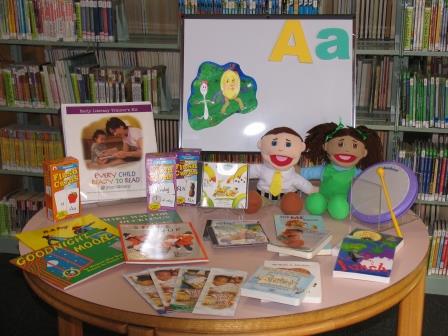 Ohio Ready to Read kits include the basics to present a Ready to Read workshop in your library or community. No more scrambling to collect books, toys, CDs, and flannels from your library collection or personal stash, or to make materials from scratch!
The ORTR kits are available for free loan to Ohio public libraries for early literacy support. Use them in your workshops, programming, parent education, staff meetings, or to demonstrate early literacy concepts anywhere in your community. Each kit includes both the 1st and 2nd editions of the Every Child Ready To Read® @ Your Library® (ECRR) toolkit, a variety of books and other materials, and sample ECRR brochures and bookmarks.
Complete the Ohio Ready to Read Kit Request Form to reserve a kit to be sent to your library. The kits are available for open-ended loan periods as long as other libraries are not waiting.
Please note that the kits may only be shipped via Priority Dispatch. If your library does not participate in statewide delivery, please contact ORTR to discuss options.
Each kit contains:
1 easel / flannel board
3 boxes of flashcards - Letters, Spanish Letters, Spanish Everyday Words
1 folder of flannel nursery rhymes
2 bags of magnetic letters (upper and lowercase)
2 puppets
1 drum head and 1 drum stick
11-12 classic board books
6 classic picture books (paperback)
2-3 classic big books
4-5 music CDs
1 Every Child Ready To Read® @ Your Library® 2nd edition manual
1 Every Child Ready To Read® @ Your Library® 1st edition training kit
1 pack of ECRR 2nd edition brochures
1 pack of ECRR 2nd edition bookmarks